Offices
The Kompetenzzentrum für Ernährung [Competence Center for Nutrition] KErn is based in two locations: in Freising and Kulmbach. Both locations are characterized by an excellent scientific landscape in the nutrition field: researchers in Kulmbach and Freising are concerned with issues of the future and pressing questions about overweight, functional food, energy-saving methods in production processes, taste, food security and consummers' needs.
These are ideal topics for promoting scientific dialogues between industry and science, pooling of experts' opinions, and formulating new research projects in cooperation with industry and nutrition education.
Kulmbach

Kulmbach is seat of the Max Rubner-Institute (MRI), the Federal Research Institute for Nutrition and Foodstuffs. In mid-2010 the Research Centre for Food Quality (FoRN) from the University of Bayreuth started its activities at the MRI; in 2019 the "Nutrition Campus", also part of the University of Bayreuth, will take up its work. Kulmbach disposes as well a very high density of breweries, butcheries, and bakeries.
KErn is located in the Mönchshof area in Kulmbach.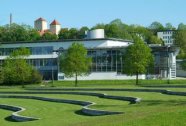 Zoombild vorhanden
Campus Weihenstephan,
Fotograf: Ulli Benz, TUM
Freising-Weihenstephan

KErn is located on the premises of the Landesanstalt für Landwirtschaft (LfL) [Bavarian State Research Center for Agriculture] in close proximity to the Wissenschaftszentrum Weihenstephan WZW [Center of Life and Food Sciences Weihenstephan] and the Fraunhofer Institute for Process Engineering and Packaging IVV.